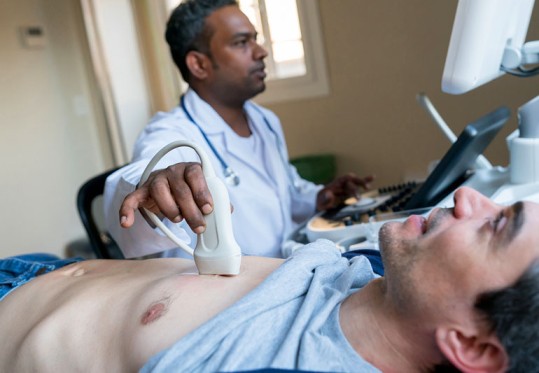 Types of Echocardiograms
Echocardiography is a test that uses sound waves to produce live images of your heart. The image is called as echocardiogram. This test allows your doctor to monitor how your heart and its functioning.
              The Images Will Help to Get Information About:
Blood clots in the heart chambers
Problems with the pumping of the heart
problems with the function of your heart valves
pressures in the heart
An echocardiogram is a key in determining the health of the heart muscle, especially after a heart attack. It can also reveal heart defects in unborn babies.
                           Uses of Echocardiogram Test
Your doctor may ask for a test echocardiogram for several reasons. For example, they may have discovered an abnormality from other testing or while listening to your heartbeat through a stethoscope.
                            Types of Echocardiograms
Transthoracic echocardiography: A device called a transducer will be placed on your chest over your heart. The transducer sends ultrasound waves through your chest toward your heart. A computer interprets the sound waves as they bounce back to the transducer. This produces the live images that are shown on a monitor.
Transesophageal Echocardiography: If a transthoracic echocardiogram doesn't produce proper images or you need to visualize the back of the heart better, your doctor may recommend a transesophageal echocardiogram.
In this procedure, the doctor guides a much smaller transducer down your throat through your mouth. The doctor will numb your throat to make this procedure easier and eliminate the gag reflex.
The transducer tube is guided through your esophagus, the tube that connects your throat to your stomach. With the transducer behind your heart, your doctor can get a better view of any problems and visualize some chambers of the heart that are not seen on the transthoracic echocardiogram.
Fetal Echocardiography: Fetal echocardiography is used on during 18 to 22 weeks of pregnancy. The transducer is placed over the woman's abdomen to check for heart problems in the fetus. The test is considered safe for an unborn child because it doesn't use radiation, unlike an X-ray.
                     The Procedure of an Echocardiography
         For transthoracic echocardiogram, the steps are as follows:
You need to undress from the waist up
The technician will attach electrodes to your body
The technician will move a transducer back and forth on your chest to record the sound waves of your heart as an image
You may be asked to breathe in a certain way
          For transesophageal echocardiogram, the steps are as follows:
Your throat will be numbed
You will then be given a sedative to help you relax during the procedure
The transducer will be guided down your throat with a tube and will take images of your heart through your esophagus.