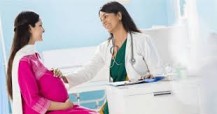 Perfect Age to Visit a Gynecologist
A gynecologist is a doctor who specializes in treating diseases of the female reproductive organs and providing well-woman health care that focuses primarily on the reproductive organs.
                        Time to Visit The Gynecologist
A gynecologist is recommend for annual screening and any time a woman has concerns about symptoms such as pelvic, vulvar, and vaginal pain or abnormal bleeding from the uterus.
Conditions Commonly Treated by Gynecologists Include:
issues on pregnancy, fertility, menstruation, and menopause
polycyclic ovary syndrome
family planning, including contraception, sterilization, and pregnancy termination
urinary and fecal incontinence
premalignant conditions, such as endometrial hypoplasia, and cervical dysplasia
congenital abnormalities of the female reproductive tract
sexuality, including health issues relating to same-sex and bisexual relationships
sexual dysfunction
At What Age Should I Visit a Gynecologist
A gynecologist can treat a girl or a woman at any age. Dr.sunny recommends starting to visit a gynecologist from the age of 13 to 15 years.
Building up a relationship with the doctor enables a girl or woman to be more comfortable asking questions about menstruation, sexuality, and so on, and provides a point of contact if symptoms occur in the future.
It also gives the doctor a chance to guide a woman's overall welfare in the long term, through counseling on important health and lifestyle issues.
                                Screening
Dr. Sunny recommends visiting a gynecologist at least once a year for an annual checkup.
This include:
screening, evaluation, and advice
immunizations based on age and risk factors
a pelvic examination and a breast examination, as appropriate for the patient's age
You may have to give a blood or urine sample for a screening test.
Regular visits to a well-woman clinic enable the individual to keep up to date on how to maintain a healthy lifestyle and minimize health risks at each age.