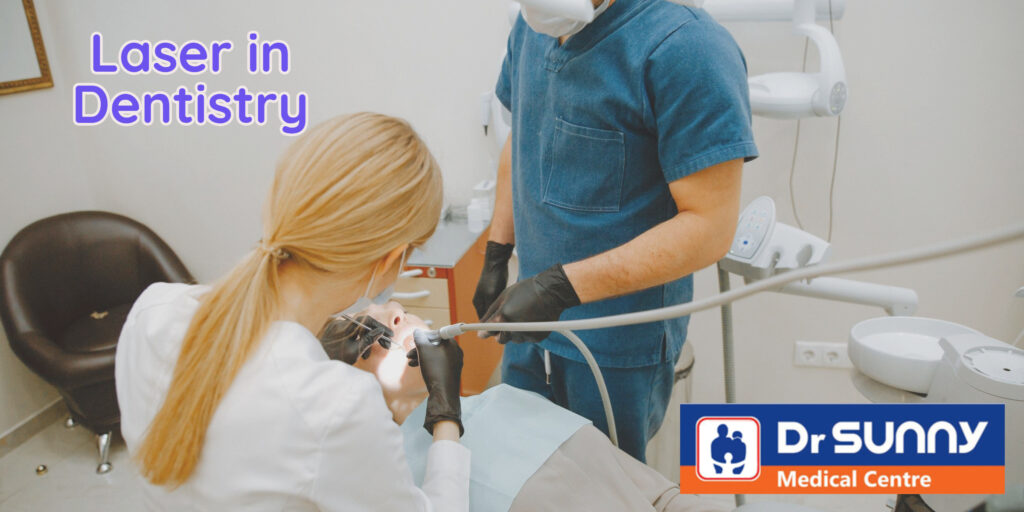 Laser in Dentistry
What is Laser in Dentistry?
LASER stands for Light Amplification by the Stimulated Emission of Radiation. The device creates light energy in an extremely narrow and focus beam. This laser light produces a response when it hit tissue, allow it to remove or shape the tissue. Likewise Laser in dentistry is ideal for children who become anxious or afraid when having dental procedures.
Doctors use lasers which are extremely focus light beams, to alter or remove tissue in small amounts. Laser surgery is not limit to dentistry, but many people have never heard of laser in dentistry before having it done. Similarly Dentists use lasers in a variety of procedures involving the inside of the mouth, be it to remove overgrown tissue, to reshape the gums, or to whiten teeth.
Laser in dentistry is use in a variety of procedures
Treating hypersensitivity
Tooth decay
Gum disease
Whitening teeth
Benefits of Laser in Dentistry
Procedures perform using soft tissue dental lasers may not require stitches.
Certain procedures do not require anesthesia.
Bacterial infections are minimize because the high-energy beam sterilizes the area being work on.
Damage to surrounding tissue is minimize.
Types of Dental Lasers
Cavity Detector: Low intensity soft tissue dental lasers may be use for the early detection of cavities by providing a reading of the by-products produce by tooth decay.
Tooth Sensitivity: Dental lasers may be use to locate on the root of the tooth that is responsible for hot and cold tooth sensitivity.
Crown Lengthening: Firstly, Dental lasers can reshape gum tissue and bone to expose healthier tooth structure. After that reshaping provides a stronger foundation for the placement of restorations.
Gummy Smile: Secondly, it can reshape gum tissue to expose healthy tooth structure and improve the appearance of a gummy smile.
Soft Tissue Folds: Thirdly, it may be use for the painless and stitches free removal of soft tissue folds often cause by ill-fitting dentures.
For more details contact Dr Sunny Medical Center Bellandur and Sarjapur Road Bangalore.