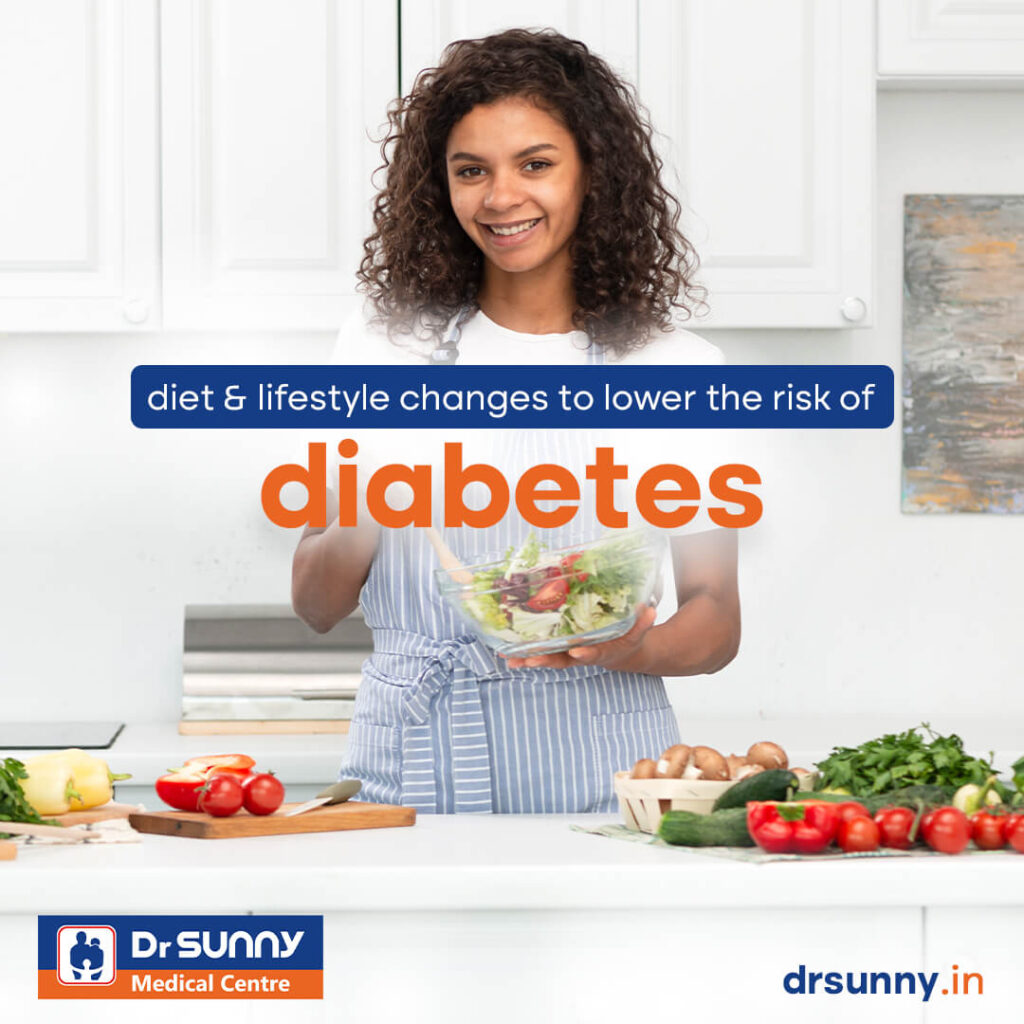 Diet & lifestyle changes to lower the risk of Diabetes
Diabetes has become alarmingly common in India, but the good news is that you can lower its risks. Diabetes is largely considered as a lifestyle disease and changes to the same can prove effective in reducing the risk of developing diabetes. If you are wondering how to get this health issue under control keep reading the blog:
Maintain Healthy Weight: If you are overweight or obese, losing as little as 5-10% of your body weight can significantly reduce the risk of developing diabetes.
Follow a Balanced Diet: Focus on consuming a balanced diet that includes a variety of nutrient-dense foods. Opt for whole grains (such as brown rice, quinoa, and whole wheat bread) instead of refined grains (white rice, white bread). Include plenty of fruits, vegetables, legumes, and whole grains in your diet to boost fiber consumption.
Limit Sugar Intake: If you want to keep diabetes at bay minimize the consumption of sugary drinks, desserts, and processed foods.
Add lean proteins to your plate: Choose lean sources of protein, such as skinless poultry, fish, legumes, and tofu.
Incorporate healthy fats: Include sources of healthy fats, such as avocados, nuts, seeds, and olive oil.
Control Portion Sizes: Be mindful of portion sizes to avoid overeating.
Stay Hydrated: Drink water throughout the day and limit the intake of sugary beverages like soda and fruit juices.
Engage in Regular Physical Activity: Aim for at least 30 minutes of moderate-intensity exercise per day, along with strength training exercises two or more days a week. Find activities you enjoy, such as walking, swimming, cycling, or dancing.
Quit Smoking: If you smoke, seek support to quit smoking. Smoking increases the risk of diabetes and other health complications.
Manage Stress: Chronic stress can contribute to the development of diabetes. Find healthy ways to manage stress, such as exercise, meditation, yoga, or engaging in hobbies you enjoy.
Get Enough Sleep: Aim for 7-9 hours of quality sleep each night. Poor sleep patterns and sleep deprivation can increase the risk of diabetes.
Regular Health Check-ups: Schedule regular check-ups with your healthcare provider to monitor your blood glucose levels, blood pressure, and overall health. They can provide personalized guidance and support to help you reduce your risk of developing diabetes.
Remember, it's essential to consult with a healthcare professional to create a personalized plan based on your individual needs and health status. If you think you are at higher risk of getting diabetes or are already suffering from the health issue book an appointment with our doctors at Dr. Sunny Medical Centre today. Our consultant internal medicine Dr. Harshitha S is a specialist in the treatment of diabetes. She has all the skills needed to handle complex and challenging cases, ensuring optimal patient outcomes.