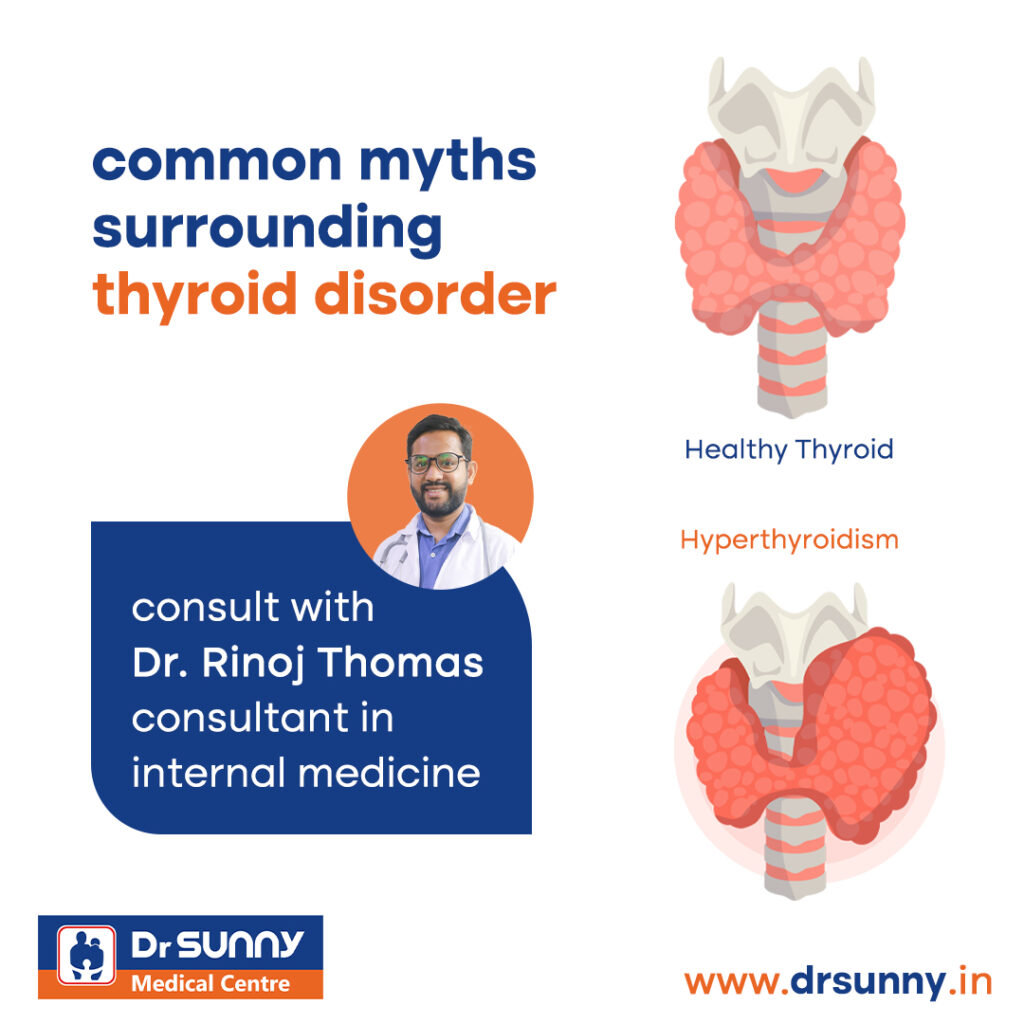 Common Myths Surrounding Thyroid Disorder
Common Myths Surrounding Thyroid Disorder
If you are suffering from a thyroid disorder there are chances that you might have heard or read about many things related to this health issue, but many of the things might not be true and must be only a popular myth. It is important to separate facts from fiction. In this post we will look at some of the most common myths. Curious to know more, keep reading.
Myth: Thyroid disorders always lead to weight problems.
Fact: While thyroid disorders can affect weight, not everyone with a thyroid condition will experience weight-related issues. Hypothyroidism can lead to weight gain or difficulty losing weight due to a slowed metabolism. On the other hand, hyperthyroidism can cause weight loss or difficulty gaining weight due to an increased metabolic rate. However, weight changes are not universal symptoms and can vary from person to person. Other factors such as diet, exercise, and overall health also influence weight management.
Myth: Thyroid disorders are always accompanied by noticeable symptoms.
Fact: Thyroid disorders can present with a wide range of symptoms, but it's important to note that not all cases display obvious or dramatic symptoms. Some individuals may experience mild symptoms that can be easily overlooked or attributed to other causes. For example, fatigue, weight changes, mood swings, and hair loss can be signs of thyroid dysfunction, but they can also be attributed to various other factors. In some cases, individuals may be asymptomatic or experience very subtle symptoms, making diagnosis more challenging. Thyroid profile is the most popular diagnostic blood test that can reveal if you are having thyroid related health issues.
Myth: Only women can develop thyroid disorders.
Fact: While it's true that women are more susceptible to thyroid disorders, men can also be affected. However, factors such as hormonal differences, autoimmune diseases, and genetic predisposition may contribute to the higher incidence in women. Men should be aware of the possibility of thyroid disorders and seek medical attention if they experience related symptoms.
Myth: Thyroid can be managed with making changes to diet
Fact: Though few dietary changes can aid in managing the thyroid disorder but along with it you need to follow the medication provided by your healthcare provider.
If you are someone who has been diagnosed with thyroid disorder, you can seek consultation with Dr. Rinoj Thomas at Dr. Sunny Medical Centre. His expertise lies in managing all general medicine conditions including infectious diseases, lifestyle diseases such as diabetes, hypertension, fatty liver, and other diseases including thyroid disorders, insomnia and pulmonary diseases like asthma, COPD, an allergies. He exemplifies unwavering commitment towards his patients and is known for his excellent track-record of assisting patients towards symptom control, improving overall health, and making healthier choices.