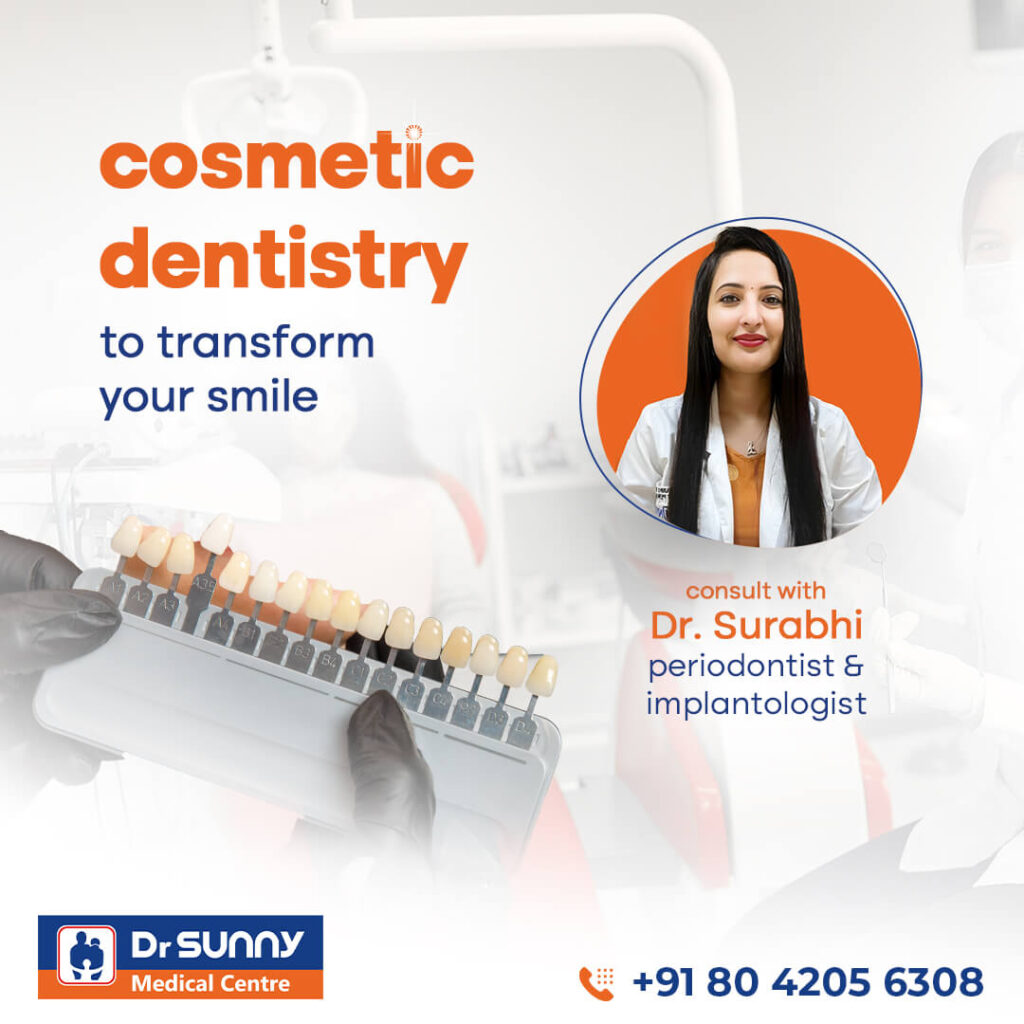 Best cosmetic dentistry treatments to transform your smile
You will believe in the transformative power of cosmetic dentistry once you visit our clinic. Our dentists possess years of experience and are experts at blending the science behind dentistry with the art of creating beautiful smiles. At Dr. Sunny Medical Centre, we offer a plethora of captivating cosmetic dentistry solutions tailored to cater to your smile transformation.
In this blogpost we reveal the most revered and sought-after cosmetic dentistry procedures available at our clinic. These procedures will help you unveil a bright, white, and stunning smile.
Dental Veneers: Veneers are thin shells made of porcelain or composite resin that are bonded to the front surface of the teeth. Veneers can transform the shape, size, color, and overall appearance of teeth. They are custom-made to achieve a natural-looking and attractive smile, and they can be an excellent solution for covering chipped, stained, or misaligned teeth. If you are looking for the best veneers in Bengaluru you can trust us.
Teeth Whitening: Professional teeth whitening is a non-invasive and highly sought-after cosmetic dental treatment. It is designed to remove stains and discoloration from the teeth, resulting in a brighter and more youthful smile.
Dental implants: Implants are a long-lasting and reliable solution for replacing missing teeth. They consist of a titanium post that is surgically placed into the jawbone, acting as a replacement for the tooth root. An artificial tooth (crown) is then attached to the implant, providing a functional and aesthetically pleasing tooth replacement option.
Smile design: The best way to have the perfect smile is to opt for our smile design procedure. This dental procedure will give you the perfection you need in your smile by fixing any broken or chipped tooth through veneers and dental implants.
If you want help with determining the most appropriate cosmetic treatment plan tailored to your needs, ensuring you achieve the smile of your dreams, book an appointment with our qualified consultant periodontist & implantologist Dr. Surabhi Durgapal. She is an expert in cosmetic dentistry with profound knowledge of implant dentistry, smile design, teeth whitening, crown lengthening, veneers, crowns and bridges, and other general dentistry procedures. Committed to dental ethics, Dr. Surabhi believes in a comprehensive treatment approach and focuses on providing excellent and effective care to all patients.