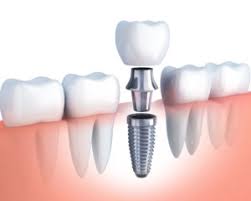 Advantages of Dental Implants
Dental implants are nothing but replacing the tooth roots. Implants provide a strong foundation for fixed or removable replacement teeth that are made to match your natural teeth. Here Are The Advantages of Dental Implants:
Does Implant Teeth Difficult To Clean?
No. But aftercare is important if you are going to have a long-lasting, successful implant. Your dental team should give you a detailed advice on how to look after your implants. Cleaning around the teeth attached to the implants is no more difficult than cleaning natural teeth. However, there may be areas that are difficult to reach and you'll be shown how to clean them. Your dental team will be able to talk to you about this.
Can I Take The Teeth Out If They Are Fixed To Implants?
Most teeth attached to implants can only be fitted and removed by the dentist. However, if you have removable attached to the implants, you'll be able to take them out for cleaning.
Advantages of Dental Implants?
Dental implants look and feel like your own teeth. And because they are designed to fuse with bone, they become permanent.
Because they become part of you, implants eliminate the discomfort of removable dentures.
Sliding dentures can make chewing difficult. Dental implants function is like your own teeth, allowing you to eat your favorite foods with confidence and without pain.
Dental implants can give you back your smile and help you to feel better about yourself.
Implants are very durable and will last many years. With good care, many implants last a lifetime.
Contact Dr. Sunny in Bellandur or Sarjapur Road For Best Dental Implant