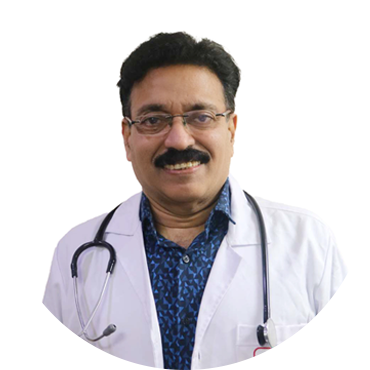 Consultant Family Physician
Read More
With thirty-five years of experience under his belt, our senior family physician consultant, Dr. Pradheep E possesses a wealth of knowledge and wisdom that only time can bestow. 
Having obtained his degree from Thanjavur Medical College, Dr. Pradheep started practicing as a physician alongside a renowned doctor in Kerala. For four years, he honed his skills and acquired invaluable clinical experience. He returned to his hometown in Thanjavur and dedicated thirteen years to serve his community as a general practitioner. 
Eager to expand his knowledge, Dr. Pradheep embarked on a journey to Bengaluru. He worked at popular healthcare facilities including Manipal Hospital, Apollo Hospital, and Nationwide Clinic. After accumulating a decade's worth of experiences that enriched his medical repertoire, he joined Dr. Sunny Medical Centre in Bellandur and Dr. Sunny Medical Multispecialty Center, Kasavanahalli.
He has been with us for the past 8 years. As an amazingly trusted physician, he understands that each patient is unique and deserving of personalized care. He goes above and beyond to ensure every patient's well-being. Entrust your health to his capable hands, and embark on a journey of healing, knowing that you are in the presence of a true medical virtuoso.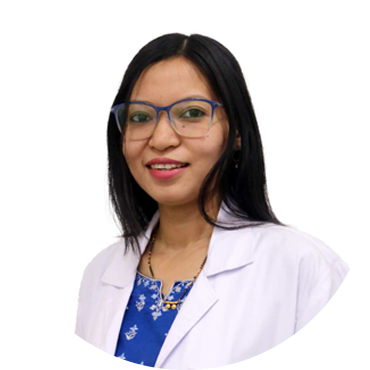 Read More
Dr. Lipika Debbarma's name is synonymous with trust, expertise when it comes to pursuit of timeless beauty. An aesthetic physician, with over 13 years of experience, she has been practicing at Dr Sunny Medical Center in Bellandur, Bangalore and Dr. Sunny Medical Multispecialty Center in Kasavanahalli.
With each procedure, she seeks to enhance not only her patients' physical appearance but also their sense of self-worth. She obtained her MBBS degree in 2009 from Regional Institute of Medical Sciences (RIMS), Manipur. She further went on to complete DFM from the Royal College of General Practitioners in the UK in 2013. Always striving for excellence, Dr. Debbarma expanded her expertise by completing her PGDCD training from IIAM in Pune in 2022.
Registered under the esteemed Karnataka Medical Council, Dr. Debbarma offers a range of cutting-edge services in the field of aesthetics. She collaborates with her patients to tailor treatment plans that align with their unique needs and desires.
Her goal is to restore every patient's natural radiance while respecting and highlighting the unique features and proportions that make them one of a kind. With a keen eye for detail and a profound understanding of the human form, she artfully performs procedures such as chemical peeling, microneedling, mesotherapy, PRP therapy, and laser treatments.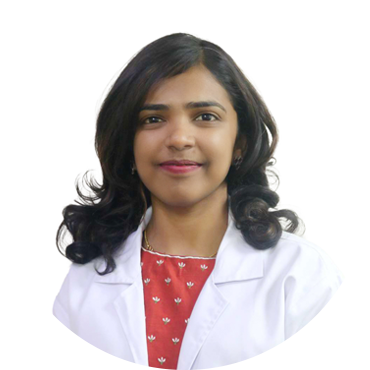 Consultant Internal Medicine
Read More
Dr. Harshitha M is a highly skilled and experienced consultant in internal medicine with a specialization in the treatment of Diabetes, Hypertension, and Asthma. She holds an MBBS degree and completed her MD in General Medicine from Rajiv Gandhi University.
Dr. Harshitha's professional journey includes two years of experience as a Consultant Physician, where she successfully managed a diverse range of cases. During this time, she developed strong clinical skills.
Recognizing the critical care needs of patients, Dr. Harshitha also worked as an Intensivist, specializing in the care of critically ill individuals for a year. This experience has equipped her with the necessary skills to handle complex and challenging cases, ensuring optimal patient outcomes.
She stays up to date with the latest advancements in these fields to provide her patients with the most effective and innovative treatment options available. 
She believes in educating her patients about their conditions and involving them in the decision-making process, empowering them to actively participate in their own healthcare journey.
With her expertise, dedication, and genuine concern for her patients' well-being, Dr. Harshitha M continues to make a significant impact in the field of internal medicine, providing comprehensive and compassionate care to her patients.
Read More
Dr. Sk Tiwari, our Consultant Paediatrician, brings an exceptional level of expertise and experience to his role. With a career spanning more than three decades, he has become a trusted figure in the field, offering top-quality treatment and health counseling to infants, toddlers, and young children. 
He holds an MBBS degree, a DCH (Diploma in Child Health) and being a gold medalist, he also brings academic excellence in child health. His warm demeanor and ability to establish a strong doctor-patient relationship contribute to a positive and comfortable healthcare experience for his young patients and their families.
Parents and guardians can be rest assured that their children will receive the highest standard of care under Dr. Tiwari's guidance. His solid and rich experience equips him with the necessary skills to handle a wide range of pediatric cases. His services include providing nutrition assessment, consultation, nebulization, managing outpatient care, inpatient care and pediatric emergencies for patients under 18 years of age. You can also consult him to ensure that your child is achieving all growth milestones.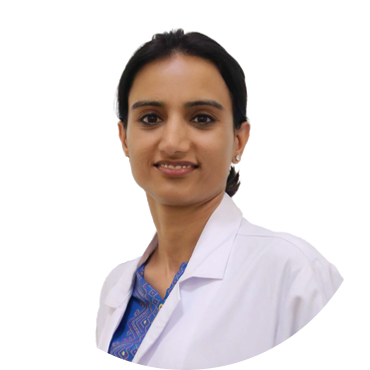 Read More
Our Consultant Gynaecologist, Dr. Vanita Vaishnav, is a seasoned Obstetrician & Gynaecologist whose expertise spans over a decade. With a profound commitment to delivering the highest quality care, Dr. Vanita is a compassionate soul dedicated to the well-being of young girls and women.
A board-certified specialist, she has earned her MS OBG degree and sought additional training in the intricate management of infertility and endoscopic surgeries. From essential screenings such as PAP Smears, STI screenings, and breast examinations to personalized contraceptive guidance, fertility evaluations, and even the delicate management of menopausal symptoms, Dr. Vanita's expertise knows no bounds. 
From the earliest stages of pre-pregnancy planning to the tender moments of post-delivery care, she accompanies her patients on their transformative journey, ensuring the utmost comfort and support. By fostering open communication, she creates a safe space for her patients to ask questions & voice concerns. She takes the time to explain treatment options and procedures, empowering her patients to make informed decisions about their health.
When it comes to complex surgeries, her expertise in laparoscopy shines brightly. From removing fibroids and ovarian cysts to skillfully managing endometriosis, her dexterous hands bring relief to those in need. Patient reviews are a testament to the trust they place in her, knowing that under her guidance, their well-being is in safe hands.